The A-List,

City Pages
(1/10/07)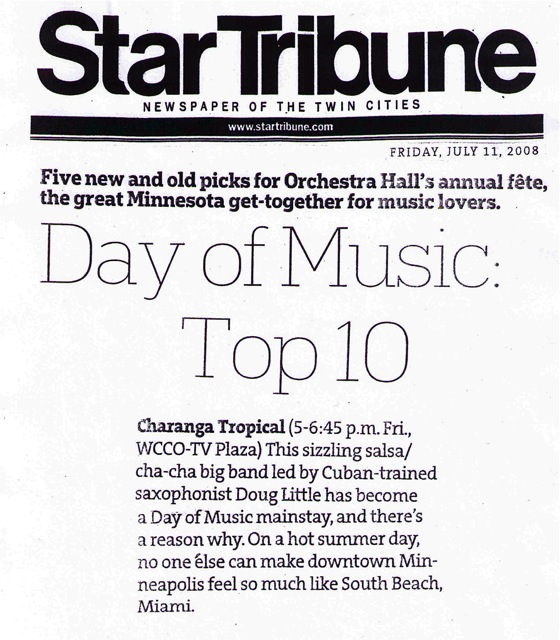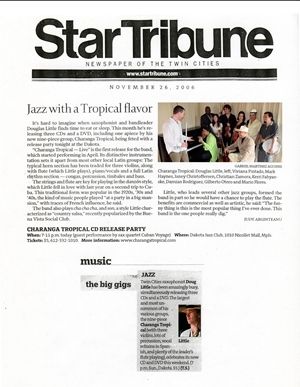 Star Tribune

(11/26/06)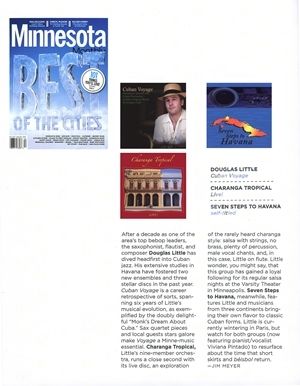 Minnesota Monthly
(3/1/07)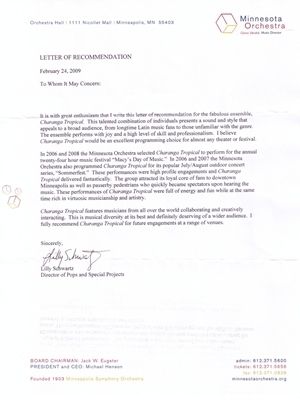 Minnesota Orchestra
(2/24/2009)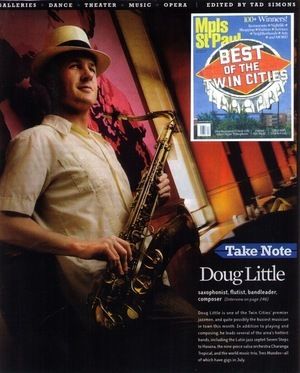 Mpls/St. Paul Magazine
Good Times With Charanga Tropical
    Attendance at this monthly Varsity Theater gig keeps mushrooming, as salsa and ballroom dancers alike discover this nine-piece band's music, unlike any other in these parts. That's because group founder Doug Little has consciously spread the material from the traditional danzons of the 1920s and '30s to compelling arrangements of modern Afro-Cuban pop from the likes of Los Van Van. With a trio of violinists and a flute, the music swoons with rich harmonies, peps up slightly for some engaging cha chas, and led by powerhouse pianist Vivian Pintado (who's worked with the great Cuban vocalist Albita and was thrice nominated for a Latin Grammy) cascades into glorious salsas to fill the Varsity's spacious dance floor. Even if you don't want to hoof it, it's a musical delight and a visual spectacle. Little won't be around for the next three months, having gone to Paris for an artistic residence sponsored by the French government. But as he says, "The band is so tight right how that they'll get along just fine."
       

    .       

   -Britt Robson

City Pages

(1/10/07)
Day of Music Top 10
Five new and old picks for Orchestra Hall's annual fête, the great Minnesota get-together for music lovers.
Charanga Tropical: This sizzling salsa/cha-cha big band led by Cuban-trained saxophonist Doug Little has become a Day of Music mainstay, and there's a reason why.  On a hot summer day, no one else can make downtown Minneapolis feel so much like South Beach, Miami.
Jazz with a Tropical Flavor
It's hard to image when saxophonist and bandleader Douglas Little finds time to eat or sleep. This month he's releasing three CDs and a DVD, including one apiece by his new nine-piece group, Charanga Tropical, being feted with a release party tonight at the Dakota.
    "Charanga Tropical—Live" is the first release for the band, which started performing in April, 2006. Its distinctive instrumentation sets it apart from most other local Latin groups: The typical horn section has been traded for three violins, along with flute (which Little plays), piano/vocals with a full Latin rhythm section—congas, percussion, timbales and bass.
     The strings and flute are key for playing in the danzon style, which Little fell in love with last year on a second trip to Cuba. This traditional form was popular in the 1920s, '30s and '40s, the kind of music people played "at a party in a big mansion," with traces of French influence, he said.
     The band also plays cha cha cha, and son, a style Little characterized as "country salsa," recently popularized by the Buena Vista Social Club.
     Little, who leads several other jazz groups, formed the band in part so he would have a chance to play the flute. The benefits are commercial as well as artistic, he said: "The funny thing is this is the most popular thing I've ever done. This band is the one people really dig." 
          -Judy Arginteanu,

Star Tribune

(11/26/06)
Douglas Little -
Cuban Voyage
Charanga Tropical -
Live!
Seven Steps to Havana -
Self-Titled
   After a decade as one of the area's top bebop leaders, the saxophonist, flautist, and composer Douglas Little has dived headfirst into Cuban jazz. His extensive studies in Havana have fostered two new ensembles and three stellar discs in the past year. 

Cuban Voyage

is a career retrospective of sorts, spanning six years of Little's musical evolution, as exemplified by the doubly delightful "Monk's Dream About Cuba."  Sax quartet pieces and local guests stars galore make Voyage a Minne-music essential.
    

Charanga Tropical

, Little's nine-member orchestra, runs a close second with its live disc, an exploration of the rarely heard charanga style: salsa with strings, no brass, plenty of percussion, male vocal chants, and, in this case, Little on flute.  Little wonder, you might say, that this group has gained a loyal following for its regular salsa nights at the Varsity Theater in Minneapolis. 
     Seven Steps to Havana, meanwhile, features Little and musicians from three continents bringing their own flavor to classic Cuban forms. Little is currently wintering in Paris, but watch for both groups (now featuring pianist/vocalist Viviana Pintado) to resurface about the time that short skirts and béisbol return.
          -Jim Meyer,

Minnesota Monthly

(3/1/07)

Minnesota Orchestra - Letter of Recommendation

     It is with great enthusiasm that I write this letter of recommendation for the fabulous ensemble, Charanga Tropical. This talented combination of individuals presents a sound and style that appeals to a broad audience, from longtime Latin music fans to those unfamiliar with the genre. The ensemble performs with joy and a high level of skill and professionalism. I believe Charanga Tropical would be an excellent programming choice for almost any theater or festival.

    In 2006 and 2008 the Minnesota Orchestra selected Charanga Tropical to perform for the annual twenty-four hour music festival "Macy's Day of Music." In 2006 and 2007 the Minnesota Orchestra also programmed Charanga Tropical for its popular July/August outdoor concert series, "Sommerfest." These performances were high profile engagements and Charanga Tropical delivered fantastically. The group attracted its loyal core of fans to downtown Minneapolis as well as passerby pedestrians who quickly became spectators upon hearing the music. These performances of Charanga Tropical were full of energy and fun while at the same time rich in virtuosic musicianship and artistry.

     Charanga Tropical features musicians from all over the world collaborating and creatively interacting. This is musical diversity at its best and definitely deserving of a wider audience. I fully recommend Charanga Tropical for future engagements at a range of venues

Lilly Schwartz
Director of Pops and Special Projects - Minnesota Orchestra







Mpls/St. Paul Magazine Take Note

"Doug Little is one of the Twin Cities'
premier jazzmen..."

Doug Little is one of the Twin Cities' premier jazzmen, and quite possibly the busiest musician in town this month. In addition to playing and composing, he leads several of the area's hottest bands, including the Latin jazz septet Seven Steps to Havana, the nine-piece salsa orchestra Charanga Tropical, and the world music trio Tres Mundos-all of which have gigs in July. -Tad Simons